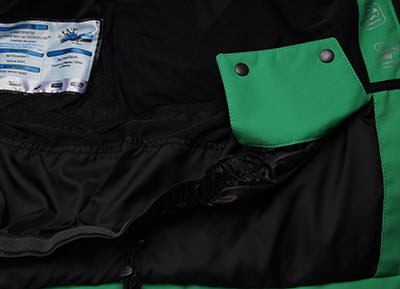 Never let snow into your jacket, even in the deep snow!
The worst thing that can happen after a fall or during a great day in the deep powder is snow inside your jacket! Getting cold, wet and uncomfortable is definitely not why you are in the mountains. A snow gaiter is one of those necessary accessories inside a technical ski jacket. It will prevent snow from entering at the hem of your jacket in case you do fall or ride in the deep snow.
All VISOR ski jackets are equipped with a special designed snow gaiter that is very easy and comfortable to wear. It is made of a thin nylon, waterproof material with an elastic end that fits exactly around your waist. The snow gaiter remains hidden under your ski jacket and will also help to keep the warmth inside your jacket.
VISOR's designs its technical ski garment and integrates accessories in its garment to create the most optimal and comfortable situation in all weather conditions.