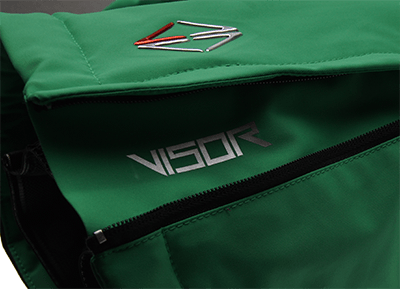 Fasten your ski shoes is not always the most fun when you go skiing. So we try to make it as comfortable as possible.
When opening the side zippers on the bottom of your ski pants you instantly create more width. There are a couple of reasons why you might need this extra width or why this makes your ski-day more comfortable.
Some ski shoes have large buckles on their side. Even in a closed position they can be too wide to fit under normal ski pants so you need more space to create a comfortable fit. This is necessary because your pants needs to be able to move without any friction. Too large shoe buckles can easily get stuck inside your pants and will limit your movement.
When you put on your ski shoes or fasten your buckles you can create more space by opening the side zippers. This makes it much more comfortable and easier. After your ski shoes buckles are fastened you can close the side zipper to create a perfect fit around your ski shoe. Most ski shoes have the same width around the ankle/lower leg. VISOR designed the bottom width of the ski pants to make an optimal fit around the ski shoe. When you close the side zipper the pants can still move without any friction and it prevents snow from getting in easily. Together with the elastic snow catcher that is also connected inside the bottom pants, it makes it impossible for snow (cold) to enter your shoes!
VISOR's engineers its technical ski garment to create the most optimal and comfortable situation.