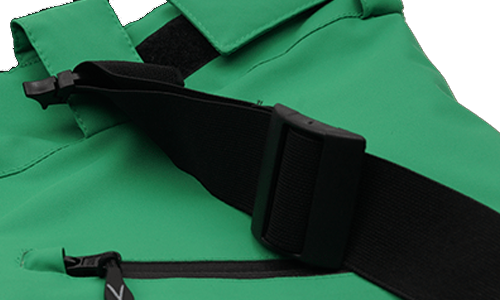 No more snow or cold breeze getting down your pants!
Not all skiers like to wear adjustable suspenders with their ski pants but when you ever experienced a huge fall, you know better. Suspenders make sure your ski pants stay in the correct place and prevent snow or cold getting into your pants. Especially in cold winter conditions these items can be crucial to protect you during a fall.
Most ski pants have only adjustable items on the waist to create a good fit. But when you want to perform on the slopes your ski pants need to stay comfortable at all times. This means not only at the start of the day but during a full day skiing! Using a perfect fit, stretch belt is a good option but wearing adjustable suspenders is definitely the best choice to guarantee a warm, comfortable and snow free day! The VISOR Arcane belt is specially designed to suit the VISOR ski pants and make it comfortable to wear without suspender but when it really comes to performance, we advise to also use the suspenders.
VISOR uses a system of "strong" stretch elastic suspenders that are connected to the pants on 4 locations; two at the front and two at the back. This ensures the tensions of the suspenders are evenly divided which makes it more comfortable to wear. One suspender on the centre back will cause an uncomfortable pressure point and pulls your pants up in one direction. This is why VISOR uses two, evenly divided suspenders on the back.
Adjustable suspenders are standard on all VISOR ski pants. We use a system that makes it possible to easily remove the suspenders when preferred. You can "click" of or "click" on the suspenders to suit your needs. VISOR advises to always wear your suspenders when you go off-piste or when you are challenging yourself on the slopes.
VISOR's engineers its technical ski garment to create the most optimal and comfortable situation.