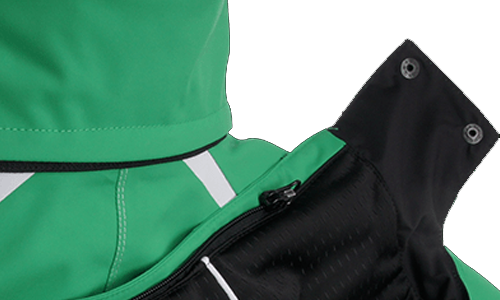 Protect yourself from the weather with a complete adjustable hood!
Always be prepared for bad weather conditions. Weather can change instantly, especially in the mountains. During snowfall or a windstorm it is essential to protect your head and face. When these body parts become cold it is not only uncomfortable, it will also cause a drop down of your whole body temperature. A good adjustable hood will protect you during these bad weather conditions and will keep you comfortable on the slope.
VISOR uses a technical designed hood that is adjustable in all directions. You can model it to make the perfect fit around your head. In a loose position the VISOR hood can also fit around most helmets. This gives you the extra needed protection when weather conditions change instantly.
Why do I need a hood on my jacket if I am using a helmet or wearing a nice head? Again, changing weather conditions is the answer! With a hood you can protect your whole head, not just a part. But there are still a lot of skiers who don't use or don't want to have a hood on their jacket. That's why VISOR always uses a detachable hood, so you make your own choice to have it attached to your jacket or not.
VISOR's engineers its technical ski garment and integrates people's wishes' to create the most optimal and comfortable situation.