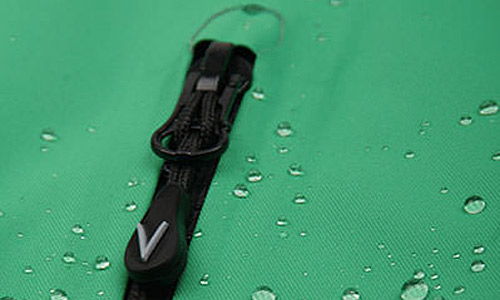 Always protect your belongings from the weather!
Waterproof zippers are essential items for a technical. Not only to keep your personal belongings stored in your pockets safe and dry but more important, to protect you from the element. Water or snow inside your jacket or cold moisture dripping through the zippers material can cause an instant cold spot. This means your body temperature can drop and you won't feel comfortable.
Most normal zippers have extra protection flaps on the sides to prevent water from getting in but they don't give you a full water protection. VISOR uses special waterproof zippers with a PU coating to provide a water resistant surface. This zipper is attached to the jacked with a double waterproof taped seem. Good technical ski clothing can only be called waterproof if all seams and all connections are 100% waterproof. This is why VISOR pay a lot of attention to these details.
VISOR's designs its technical ski garment and uses top materials in its garment to create the most optimal and comfortable situation in all weather conditions.