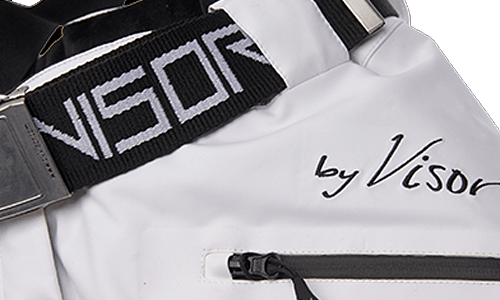 Create the perfect fit for your ski pants.
Your ski pants should be as comfortable as possible and should fit around your body exactly as you want! Everybody is different and everybody has got his or her own style and ways of feeling comfortable. This also counts for the perfect fit of your pants. The most important item is the fit around your waist because this is where the pants will directly fit against your body.
Most ski pants have elastic shoulder suspenders who will definitely hold up your pants. If you are doing some extreme skiing or having a great powder tour, the shoulder suspenders will guarantee your pants stay up and you won't get any snow inside your pants. But this is not always the most comfortable feeling and doesn't always give you the best freedom of movement. Wearing a good ski-belt can be the solution to create a comfortable fit with a complete freedom of movement. To suit both wishes VISOR designs ski pants with removable shoulder suspenders and with perfectly placed belt loops.
The positions of the belt loops on the pants are as important as the quality and material of the belt itself. The belt loops make sure the belt stays in the correct position and will not cause any direct pressure points onto your body. Also make sure ski belt is adjustable and made from a slightly stretch material. This will increase your movement and creates a more comfortable feeling. The belt loops designed on the VISOR pants are perfectly engineered to fit with the VISOR Arcane ski belt.
VISOR's engineers its technical ski garment to create the most optimal and comfortable situation.